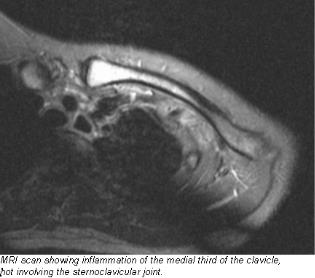 What is Condensing osteitis of clavicle?
Osteitis condensans of the sternoclavicular joint was first described by Brower et al in 1974 (5). Till 1989 only 16 cases ware reported in world medical literature (6).
Definition:
Condensing osteitis of the clavicle is a benign idiopathic entity that is probably degenerative or mechanical in etiology manifesting by variably painful and tender swelling over the medial end of the clavicle.
There is no clinical or laboratory evidence of infection in all cases of Condensing osteitis.
Where else Condensing osteitis is also marked?
Condensing osteitis is also marked at ilium, and pubis (4).
The etiopathogenesis of this rare benign clinico-radiologic entity remains unknown (7). However Berthelot et al have proposed a pathogenic hypothesis for condensing osteitis of the clavicle, ilium, and pubis. According to their observation joint aspects spared by the sclerosis are covered with hyaline cartilage but occurs in bone overlaid by fibrocartilage.
Clinical features:
1. Pain at medial end of the clavicle or SC joint with shoulder joint movement specially with over head abduction or horizontal adduction.
2. Sex: Seen more in women of late child-bearing age.
3. Radiographs show sclerosis and slight expansion of the medial one-third of the clavicle.
Investigations:
Radiologic, scintigraphic, and histologic features should be studied (2). Recognition of condensing osteitis of the clavicle may avoid the occasional unnecessarily aggressive diagnostic approach taken to search for a malignant tumor.
Radiological findings include sclerosis of the medial part of the clavicle and a normal sternoclavicular joint. Radiographic investigations reveal an increase in volume and a condensation of the median part of the clavicle, and scintigraphical studies revealed an intense incorporation of the radioisotope (7). According to Vierboom et al (9) magnetic resonance imaging is a useful non-invasive procedure for the diagnosis of condensing osteitis of the clavicle.
Diagnosis is usually confirmed by biopsy (5). Generally biopsy reveals an inflammatory exudate, and histochemical staining for Langerhans'-cell histiocytosis was negative (3). Histopathologic studies showed lamellar and spongious bone tissue, with a normal trabecular structure, although considerably thickened (7).
Differential diagnosis:
It can be mistaken for - Friedrich disease, bone island, osteoid osteoma, sternoclavicular osteoarthritis, and even a metastasis and osteosarcoma (2). Although malignant tumor of bone must be considered in the differential diagnosis, tests for a presumed primary malignant lesion are not recommended for most patients. It is recommended, however, that an excisional or (preferably) incisional biopsy be performed in all patients unless pain is insignificant and the clinical presentation strongly supports the diagnosis of condensing osteitis (1).
Shiv Sankar et al have suggested hypertrophic sclerosis causing painful enlargement of the medial end of the clavicle in isolation should be distinguished from condensing osteitis and chronic recurrent multifocal osteomyelitis.
However according to Baciu et al in the first place those concerning intra-sterno-clavicular hyperostosis, sterno-costo-clavicular arthrosis, chronic subacute osteitis, avascular necrosis of the clavicular epiphysis (Friedrich disease), and Tietze syndrome must be considered for differential diagnosis (7).
Treatment options:
Pain management can be challenging in these patients.Many patients who have slight pain do not need treatment. Anti-inflammatory medications are variably effective(1).
Multiple treatments have been described in the past including oral NSAIDS, physical therapy, radiation, surgical resection, and oral corticosteroids but have met with limited success. Galla et al described the novel utility of sternoclavicular joint steroid injections in treating a patient with Osteitis condensans of the clavicle after failed medical therapy. They also have advocated sternoclavicular joint injection under fluoroscopic guidance using a local anesthetic-corticosteroid injectate as a viable treatment option for pain associated with Osteitis condensans of the clavicle (5).Patients in whom the lesion is refractory respond well to excision of the medial one-third of the clavicle (1).
Course of the disease:
A report of self limiting nature of the disease is considered by Berthelot JM et al (4). According to a intermediate follow up (mean length of follow-up was 38 months - range, 9 to 77 months) by Sng KK et al (6) the severity of the pain appears to improve with time, although the clinical swelling over the medial clavicle does not resolve significantly.
References:
1. Kruger GD et al; J Bone Joint Surg Am. 1987 Apr;69(4):550-7. (Condensing osteitis of the clavicle. A review of the literature and report of three cases.)
2. Greenspan A et al; AJR Am J Roentgenol. 1991 May;156(5):1011-5. (Condensing osteitis of the clavicle: a rare but frequently misdiagnosed condition.)
3. Shiv Shanker V et al; J Pediatr Orthop B. 1999 Jan;8(1):48-9. (Hypertrophic osteitis of the medial end of the clavicle.)
4. Berthelot JM et al; Pain Physician. 2009 Nov-Dec;12(6):987-90. Rev Rhum Engl Ed. 1995 Jul-Sep;62(7-8):501-6. (Osteitis condensans of the clavicle: does fibrocartilage play a role? A report of two cases with spontaneous clinical and roentgenographic resolution.)
5. Galla R et al; Pain Physician. 2009 Nov-Dec;12(6):987-90. (Sternoclavicular steroid injection for treatment of pain in a patient with Osteitis condensans of the clavicle.)
6. Sng KK et al; Ann Acad Med Singapore. 2004 Jul;33(4):499-502. (Condensing osteitis of the medial clavicle--an intermediate-term follow-up.)
7. Baciu CC et al; Rev Chir Oncol Radiol O R L Oftalmol Stomatol Chir. 1989 Sep-Oct;38(5):381-6. (Condensing osteitis of the middle third of the clavicle)
8. Noonan PT et al; Skeletal Radiol. 1998 May;27(5):291-3. (Condensing osteitis of the clavicle in a man.)
9. Vierboom MA et al; Ann Rheum Dis. 1992 Apr;51(4):539-41. (Condensing osteitis of the clavicle: magnetic resonance imaging as an adjunct method for differential diagnosis.)